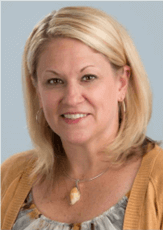 Carolyn Cerny 
Marketing Director, Central Functions, Continental North America
Carolyn Cerny is Marketing Director for the North American region of Continental's Automotive Group. She has held this position since July 2007. In this role, Cerny is responsible for overseeing market intelligence and production forecasting for the region.
Since joining the company in 1993, Cerny has held numerous leadership positions within the company including Managing Director of Market Planning and Research and Business Development Manager. She is the sponsor of the Women's Forum (Detroit-area) and co-leads our Global Diversity Network which features the Women @ Work development program.
Prior to joining Continental, Cerny served as a Senior Market Analyst at TRW Vehicle Safety Systems Inc.
Cerny earned a master's degree in management from Wayne State University and a bachelor's degree in marketing from Central Michigan University. She is a member of CADIA, OESA and Inforum, as well as a representative of Inforum's AutomotiveNext Board and the Automotive Roundtable for the Federal Reserve Bank of Chicago Detroit Branch.