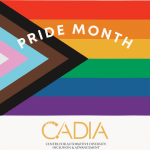 As June approaches, we want to take a moment to celebrate Pride Month and express our unwavering support for the LGBTQ+ community.
At CADIA, we believe that every individual should be able to bring their authentic selves to work without fear of discrimination or prejudice. We are committed to creating a diverse and inclusive workplace where everyone feels valued and respected, regardless of their sexual orientation or gender identity.
We recognize that the fight for equality is far from over and that there is still much work to be done. That is why we pledge to continue learning, growing and advocating for the rights of our LGBTQ+ colleagues and community members.
As always, we have resources to share!  Here are some of our favorites:
This Pride Month, let's all stand together in solidarity and support of our LGBTQ+ colleagues, friends and family members. Happy Pride!
#PrideMonth #LGBTQ+