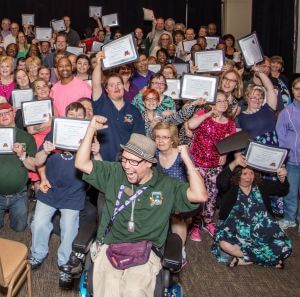 Intellectual and developmental disabilities (IDD) refer to a range of conditions that affect an individual's cognitive functioning and adaptive skills. These disabilities can have a significant impact on a person's ability to communicate, learn and perform everyday tasks.
IDD can be caused by a variety of factors, including genetic conditions and brain injury, and are typically classified into mild, moderate and profound IDD. There is no cure but appropriate support can help individuals to reach their full potential.
IDD affects 6.5 million people in the U.S. This is an often overlooked demographic when we think about inclusion as we look for talent and in our overall hiring plans. People with IDD have a wide spectrum of abilities and often excel in roles that require excellent customer service, kindness, teamwork, uplifting morale and service with a smile.
Unfortunately, the unemployment rate for those affected exceeds 80%.
It is important to provide equal employment opportunities to individuals with intellectual and developmental disabilities. Hiring someone with IDD can bring many benefits to the workplace, such as increased diversity, improved morale and enhanced creativity.
Data from Accenture supports this: businesses employing people with IDD have seen 28% higher revenue and are growing sales 2.9X faster and profits 4.1X faster than their peers.
To ensure that individuals with IDD are successful in the workplace, it may be necessary to provide reasonable accommodations such as job coaching, modified work schedules or assistive technology. Additionally, it is important to provide appropriate training and support to supervisors and co-workers to ensure that they understand how to work effectively with individuals with IDD. Some easily accessible resources include:
For organizations considering looking for talent among those with IDD - start by proactively tapping into the resources in your community. From there, remember to have conversations – rather than interviews – with prospective employees so that you are hiring for fit not job description.
Employers can also consider partnering with community organizations or vocational rehabilitation programs that specialize in placing individuals with IDD in jobs that match their skills and interests.
Overall, hiring someone with IDD can be a rewarding experience for both the individual and the employer, and can help promote a more inclusive and diverse workplace culture.
Resources:
There are many resources available to you to get you started. Below are a few.
Article exclusively written for automotivediversity.org
Authored by Lloyd Lewis, CEO, ARC Thrift Stores